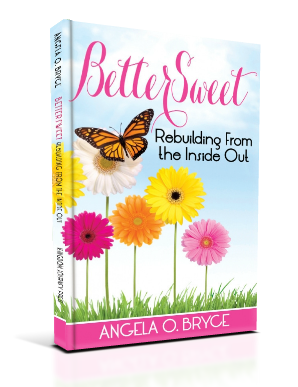 Do you want bitter or better?
Have you ever reached a point in your life

where you could either go right or left, up or down?



Are you rebuilding your life after a divorce,

breakup, or loss, and questioning the choices you have made and wondering how you came to be the person you are today?



Have you been living up to other people's expectations

and afraid to simply be who you are, which is the beautiful being God has made you to be?



Are you doubting

your self-worth?
If your answer is "Yes" ...
"BetterSweet" is the book for you.

BetterSweet is an inspiring and encouraging book written by Angela Bryce, founder of  Lady In Balance, LLC to help women in transition, move from a place of uncertainty and self-doubt to self-love, freedom, and a Better you.

In BetterSweet, Angela shares intimate details about her struggles with low self-esteem, self-love, and how a divorce was a "wake up" call. Angela shares how she decided to heal the wounds of the past, and move forward choosing to be better instead of bitter, and as can you. 
BetterSweet offers simple action steps for you to implement after each chapter, encouraging tidbits, and journal space for time of reflection. Remember, the space between rebuilding and becoming the person God has destined you to be, is the choice and action you take to get there.


You must love yourself before you love another. By accepting yourself and fully being what you are, your simple presence can make others happy. You yourself, as much as anybody in the entire universe, deserve your love & affection. ~Buddha


BetterSweet $12.99

To Contact Lady In Balance and to be put on mailing list
email info@ladyinbalance.com


About the Author
Angela Bryce, Founder of Lady In Balance, LLC is an Entrepreneur, Businesswoman, Author, & Speaker. Angela is a Creator of things inspirational, fantastically entertaining, as well as, an advocate for the today's Mind, Body, and Spirit focused Woman balancing it "all". One of Angela's favorite quotes is "If you can believe it, you can achieve it..one step at a time". 
Reviews and Comments

"Better Sweet helped me take a good honest look at myself without judgement to understand my issues and begin to heal." - Christina M 


"As a woman I've struggled with insecurities, low self-esteem and depression. Better Sweet helped me take a good honest look at myself without judgement to understand my issues and begin to heal. This book was written with a heartfelt honesty and vulnerability I admire. There are useful techniques that anyone can incorporate daily to improve the quality and happiness in their lives."" - Christina M 
Can't see or post to the Facebook Comment Box below?
I truly appreciate your feedback, if you are having trouble posting
click here
to email your comment to me and I'll post it for you. Thanks. -Angela B.